Participants
 According to the EUSA European Universities Championships Rules & Regulations 2023 only competitors,who satisfy the following conditions may take part
Students who are officially registered for and pursuing a course of study at a university
Athletes must not be younger than 17 and older than 30 years.  Athletes must be born between the 01/01/1993 and 31/12/2006
former students of the institutions mentioned above who obtained their academic degree or diploma after January 01, 2022.
The details regarding participation refer to the EUSA Rules & Regulations 2023
Visa requirements and travel documents accepted by Switzerland
Every traveler must have a valid passport or identity card. Visa are required for a continuous stay of more than three months. If your stay is shorter than three months you only need to bring your valid passport with you.
For more information on visa requirements and travel documents accepted by Switzerland please visit:
https://www.eda.admin.ch/eda/en/fdfa/entry-switzerland-residence/visa-requirements-application-form.html
Schedule
| | |
| --- | --- |
| August 2023 | Programme |
| Wednesday, 23rd        | Arrivals and accreditation, Free training, Model Middle |
| Thursday, 24th | Free training, Model Middle and Model Sprint, General Technical Meeting, Opening Ceremony |
| Friday, 25th | Sprint Distance: Qualifications and Finals, Technical Meeting |
| Saturday, 26th | Middle Distance, Technical Meeting |
| Sunday, 27th | Sprint Relay; Closing Ceremony; Banquet |
| Monday, 28th | Departures |
Competition Rules
The EUSA Regulations for Europeans University Championships and the Competition Rules for the IOF Foot Orienteering events (valid from1st January 2023) will be applied in the event.
Enterings / Winning times
Sprint Distance

Qualification and Final

 

Estimated winning time

12 – 15 minutes

Middle Distance

 

Estimated winning time

30 – 35 minutes

Sprint Relay

2 Competitors in one Team:

Estimated winning time per leg

 

- M/M (man/man)

12 – 15 minutes

 

- W/W (woman/woman)

- W/M (woman/man)

 

Both members of the team run twice.

One person can only run in one relay team.

 

 
Embargoed Areas
With reference to the Competition Rules for IOF Foot Orienteering Events, the listed areas are strictly out of bounds for all potential 2023 Orienteering Championship team members (competitors, team leaders,coaches,doctors etc.) and other persons who, through their knowledge of the terrain or the events, may influence the result of the competitions.
Offences must be reported to the Technical Director Jürg Hellmüller by e-mail:
Copies of the most recent versions of the orienteering maps of the embargoed areas are published on our website orienteering2023.eusa.eu
Overview map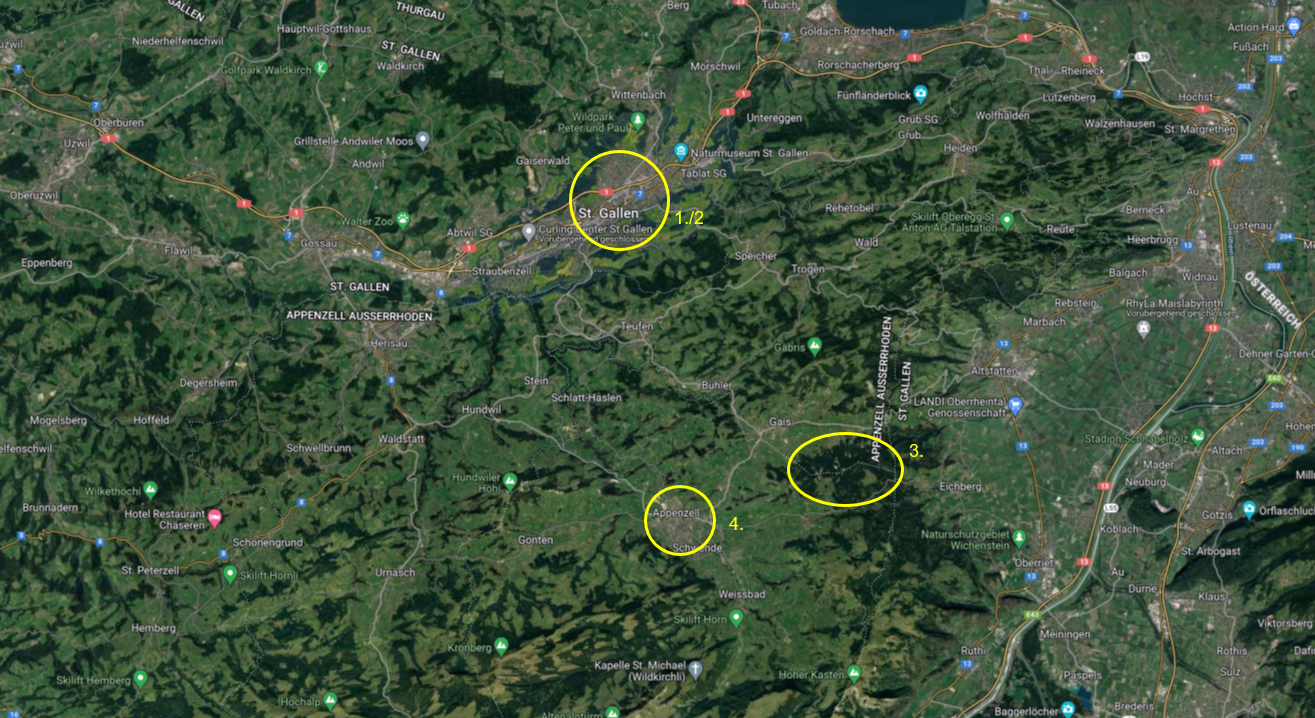 Embargoed areas and previous O-maps:
Area

Previous O-maps (latest edition)

1) St.Gallen (Event Centre)

 

2) St.Gallen (Sprint Distance)

 ©swisstopo

 

Rosenberg (2019)

St.Gallen-Altstadt (2020)

1:4'000

3) Hirschberg (Middle)

©swisstopo 

 

Hirschberg (2019)

1:10'000

 

 

 

4.) Appenzell (Spring Relay)

©swisstopo

 

Appenzell (2021)

1:4'000
Map details
| | | | |
| --- | --- | --- | --- |
| Discipline | Mapmaker | Scale | Contour interval |
| Sprint Distance    | Martin Stamm   | 1:4'000 | 5 meters |
| Middle Distance | Beat Imhof | 1:10'000  | 5 meters |
| Sprint Relay | Beat Imhof | 1:4'000 | 2 meters |
Maps are drawn according to the International Specification for Orienteering Maps (ISOM 2017-2) and the International Specification for Sprint Orienteering Maps (ISSprOM 2019).
Terrain description
Sprint distance – St.Gallen
Urban terrain (city), 650 m above sea level.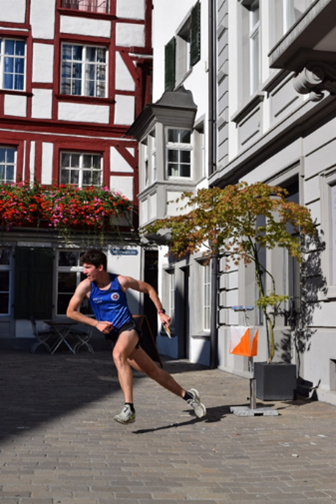 Middle distance - Hirschberg


Orienteering terrain between 950 and 1150 m above sea level. Mostly coniferous forest. Hill sides with moderate to steep slopes. Some forest roads and hiking trails, varying vegetation on the ground. Runnability mostly good; visibility good. Some natural meadows with restricted areas.
Sprint relay – City of Appenzell

Urban terrain in a small city, 800 m above sea level with side streets and narrow footpaths; local traffic in some of the streets.
Punching
Touchfree SPORTident Air+ punching (SIAC) will be used on all events. Participants are asked to use their own SIAC card during the Championship week. A limited number of rental cards will be provided by the organiser.
Clothing
According to the Swiss Orienteering Competition Rules it is forbidden to run with spike shoes in Switzerland. However, dobb spikes are allowed in forest races.
Training opportunities and training maps
Model events
Official model events on new maps (all of them surveyed and drawn in 2023) will be open on Wednesday 23th Sitterwald and Rotmonten (Sprint, Sprint Relay).
Free trainings
Other training possibilities in relevant terrain prior to the championship: Gossau (Sprint, Sprint Relay), Dietschwilerhöhi (Middle).
Maps can be purchased laser-printed. Prices: Maps without controls, € 3.00 per copy, with controls € 5.00 per copy.
All enquiries about training opportunities should be addressed to the Sport Director Rolf Bollhalder bye-mail: ...
DOPING CONTROLS
EUSA is committed to the principles of fair play and upholds the principles of antidoping at all its events.
The GTM will include information about expectations in regards to antidoping matters.
Failure to attend antidoping test when marked/selected is a breach of disciplinary protocol. The delegation is automatically disqualified and additional sanctions shall be imposed by EC after the EUC.
Any competitor found to test positive on doping control procedure will be excluded from all future EUSA events for the period of 2 (two) years. In such circumstances a report will be submitted to WADA, ISF, to the rector of his university, NUSA and
NSF. EUSA EC may impose additional sanctions.
Contact
Mail: orienteering2023@eusa.eu
Website: orienteering2023.eusa.eu
Daniel Studer, Event Director, Mob +41 79 614 98 71, ...
Jürg Hellmüller, Technical Director, Mob +41 79 623 26 92, ...
Rolf Bollhalder, Sports Director, Mob +41 79 777 71 46, ......